Surrey's commercial real estate market enters a transformative period
Curchod & Co's Piers Leigh recently presented an overview of the county's commercial property market to the Surrey Chamber of Commerce. Following the event, we took the time to catch up with him and chat about his views and expectations of the sector.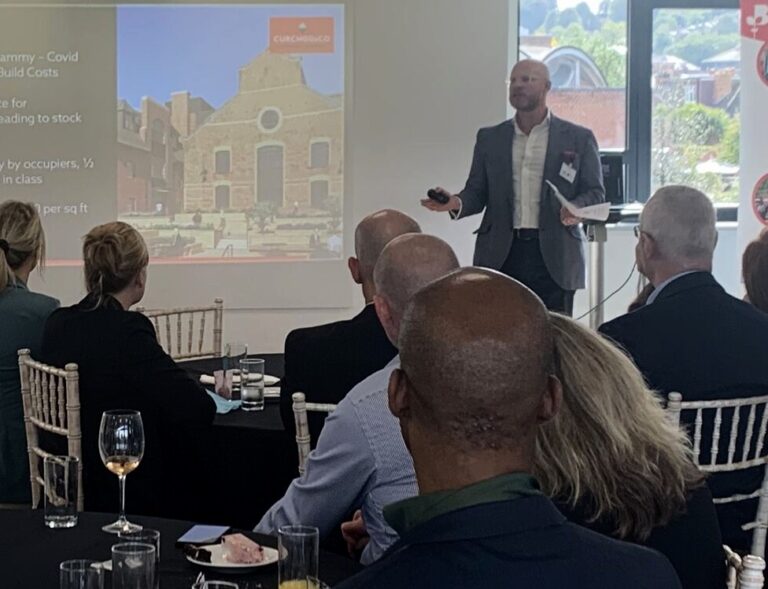 "The Surrey commercial property sector, particularly the office market, has been battling significant challenges including Brexit, Covid, and substantial political uncertainty, resulting in a notable dip in occupier confidence. Despite these headwinds, transformation is underway, and the market is demonstrating resilience and adaptability," says Piers.
He highlights what he describes as a triple threat of challenges faced by the office market: the ongoing debate surrounding remote work, escalating legislation around Minimum Energy Efficiency Standards (MEES), and a surge in build cost inflation.
Piers suggests that these challenges have constrained the willingness of developers and investors to advance new office schemes or substantial refurbishments.
"The Bottleworks in Guildford by Kingsbridge Estates stands as a testament to the limited number of significant refurbishment and redevelopment opportunities currently in progress in Surrey.
This scarcity in development contrasts sharply with the growing demand for high-quality offices," he says, adding: "A trend has emerged of occupiers downsizing but upgrading to superior office spaces, often at considerably higher rents, to attract and retain staff."
According to Piers, prime rents have surpassed the £40.00 per sq ft mark in some of the highest quality schemes. An example of this can be seen at The Priestley Building on the Surrey Research Park, a lab-enabled space developed with the aim of attracting life science operators.
"However, this flight to quality isn't solely a prerogative of larger office occupiers; it's evident on a smaller scale as well, with the "hotelisation" of office space gaining momentum," he says.
According to data from Curchod & Co, despite commanding rents up to 30% higher than standard Grade A office space, CAT A plus spaces have accounted for 47% of transactions in the sub-10,000 sq ft range in Woking and Guildford since 2022.
Looking at the levels of supply and demand, Piers has some concerns about the short-term prospects for occupiers in the Surrey market.
"With office vacancy rates across Surrey at only 10.5%, and with a substantial amount of space under offer, the market is poised for a significant supply shortage," he says.
However, Piers is hopeful that proposed developments like Acklam Development's 130,000 sq.ft. office scheme on Chobham Road, Woking, which has just gone in for planning approval, aims at addressing this scarcity of high-quality supply by offering brand-new Grade A office space and additional amenities, which will go some way to alleviating the situation.
"Fuelled by the flight to quality and the demand for new space, such high-quality developments are expected to drive prime rents into the £50.00 per sq ft range, reflecting the trends already in train in the Thames Valley M4 corridor," he cautions.
According to Piers, the Surrey industrial property market has also seen a flight to quality, with occupiers seeking environmentally friendly buildings on accessible sites. The county has witnessed a substantial increase in prime industrial rents over the last five years, averaging gains of over 50%. Piers points to Octimum Business Park in Woking as an example of this trend, where rents have escalated from £11.25 to over £17.50 per sq ft, over this period.
"Given the limited supply of new products to meet demand, the market has posed significant challenges for investors and occupiers. Developers and investors are exploring the repurposing of redundant office spaces on business parks, especially as demand for industrial spaces and high rents make such transformations more viable," he says.
Looking ahead, Piers makes several predictions for Surrey's office and industrial markets.
"With CAT A plus fitted office space expected to break the £50.00 per sq ft mark, traditional Grade A offices are likely to continue pushing into the £40.00 plus per sq ft range. The industrial market is also predicted to experience a leap in quoting rents, potentially reaching £25.00 per sq ft," he says.
"The sale of redundant office stock for alternative uses is anticipated to rise, influenced by increasing interest rates and pressure on loan-to-value covenants. For occupiers, the scarcity of quality buildings in both office and industrial sectors is likely to remain a challenge for the foreseeable future.
"As a result, the commercial property landscape in Surrey will continue to undergo significant evolution, marked by a strategic shift towards quality and sustainability," he concludes.